TheLotter Review – Website, Experience, Services and Customer Support Reviews of TheLotter.com
This is a review of the services, website/mobile experience and customer support offered at theLotter.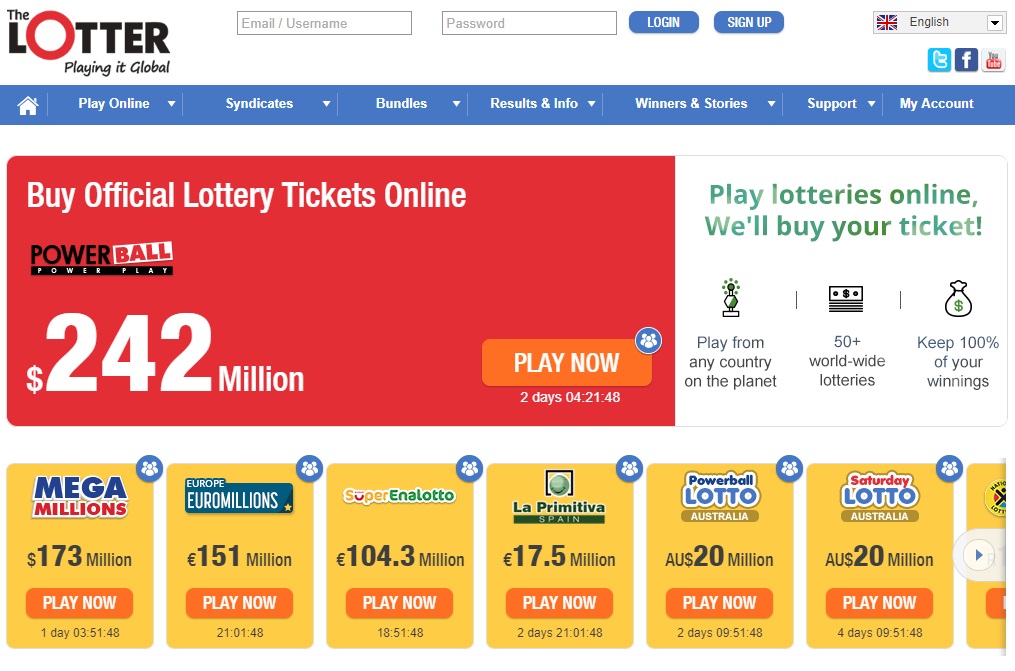 Overview of theLotter

theLotter is an online ticket messenger service which has been operating since 2002. The company's business model is one of a kind in that it has around 20 local offices around the world which physically purchase lottery tickets on behalf of their customers. These tickets are then scanned into the customers' personal accounts on the website for 24/7 access. Along with being one of the first lottery websites on the internet, theLotter is best known for the wide variety of lotteries offered on its website and its great customer service.
How to Play on theLotter
theLotter has a pretty simple interface so it's not difficult to find the lottery you want on the website. To start playing you first need to set up a free account which will allow you to deposit funds and withdraw your prize winnings. Then, you simply pick the lottery of your choice from their list of lotteries, select your favourite numbers (or use the Quick Pick option) and you're done. When choosing your numbers, you also have the option to purchase multi-draws or subscribe to the lottery. After you place your order, a representative from theLotter's local office will go out and personally buy a ticket from a local retailer on your behalf.  If you have any winning numbers, all your prize money will be transferred to you commission free. How does theLotter earn money you may ask? They're able to earn from ticket sales by adding a service fee to the ticket prices on the site which are overall inexpensive for the service and variety of lotteries they offer their customers.
To Play Lotto Online Now From Anywhere in The World >> Click Here <<
Website Experience
theLotter is on the whole, extremely user-friendly and smartly designed with virtually every page on the website available on the homepage's menu toolbar. The toolbar features their lottery list, syndicates, bundles, draw results, lottery information, customer support, lottery news and updates, winners' stories and a link to your personal account. This toolbar is extremely convenient for fast and easy access to whatever you're looking for on the website. The homepage is packed with information and so you're getting great information like recent results and direct links to the biggest lotteries' play pages, the latest news and winners. The downside of this is that it's a bit overwhelming to have so much information on one page.
Each lottery featured has its own play page with lots of information offered about to play, how the lottery is structured, the lottery's extra features and sometimes its jackpot history. There is also a lottery results page and information page featuring draw schedules, the winning odds and the tax requirements for each lottery. Again, lots of information, but all of it is good to know for when you play or interesting if you're a lottery buff.
If you're interested in what's going on in the lottery world and lottery content in general, theLotter also offers its players various articles and news concerning everything lottery as well as a winners' page that features articles and interviews with their biggest winners, which is nice for motivation. The one negative thing I would note is that the website is not updated as frequently as I think it could be.
Available Jackpots
You won't find any lottery website that has a wider selection of lotteries than theLotter. They boast around 45 lotteries from all around the world in their repertoire including smaller lotteries that have great winning odds such as Poland Mini Lotto, Latvia Vikinglotto, Chile Clasico Loto and Australia Saturday Lotto to name a few.
Some of the biggest lotteries available on theLotter include:
Powerball (US)
Mega Millions
EuroMillions
EuroJackpot
SuperEnalotto
La Primitiva
Powerball (NZ)
Powerball (AU)
These, along with dozens of others from around the globe, are available to play on theLotter. You can play with a single entry or with a syndicate, in which you can play hundreds of entries in a group for a fraction of the price. Playing in a syndicate really boosts your chances of winning lottery prizes and on theLotter, this option is available for most of their lotteries. Another great playing option that theLotter features (which you don't always finds on other websites) is playing with a bundle package. This means you can take part in the lottery alone as well as being part of a syndicate. You get the chance to win the entire lottery prize with your personal entry in addition to being able to win multiple prizes as part of a syndicate.
Deposit and Withdrawal Options
theLotter 's website offers players a really nice range of deposit and withdrawal options which is to be expected seeing how many countries they offer tottery tickets to. Most of the methods featured on the website have no limit on how much you can deposit into your account. Some of these methods include bank transfers, Visa, MasterCard, Diners Club and Discover, lots of e-payment options as well as e-wallets such as Neteller, Skrill and Paysafecard for people who either don't have a bank account or who want to play it safe without giving their credit card details. Deposits can be made in one of the available 8 currencies. As you can see, you probably won't have a problem finding an option that suits your taste.
Discounts and Promotions
theLotter offers many great discounts that players can take advantage of.
Multi-draws: Customers can get up to 25% off when they purchase a multi-draw package for personal entries, syndicates or bundles. Customers can play 5, 10, 25 or 52 consecutive draws for a discounted price depending on which package they choose (discounts range between 15%-25%). This is great for people who have a lottery they really enjoy playing, but don't want the commitment of a subscription.
Subscriptions: When you subscribe to a lottery on their website, you get every 10th ticket free for that lottery. You also receive 25 VIP points when you subscribe. Having the option to subscribe is great (not all websites offer this feature) for avid lottery players or people who just don't always have the time to consistently play.
VIP Program: theLotter's VIP program has a points system that lets players get up to a 20% discount off on all purchases on the website. The more a customer plays, the higher the discount. A customer receives 1 point for every US dollar spent on the site and the discounts range between 2.5%-20% depending on how many points they have. VIP members also receive special offers and discounts along with emails, messages, calls and SMS regarding current offers on the website.
Special Promotions: The company also offers special discounts during most holidays and coinciding with lottery events.
The only negative thing that could be said about theLotter concerning discounts is that they don't offer attractive Welcome Bonuses for new customers like other sites which offer great first purchase deals and discounts.
Free services
Jackpot Alerts: theLotter offers a customizable service which allows customers to receive alerts through email/SMS when the jackpot from a lottery of their choice surpasses a certain amount.
Results Alerts: Customers can receive the results of lottery draws of their choice through email/SMS.
Customer Support
When it comes to customer support, theLotter is undoubtedly among the best in the industry. If you have any questions, you probably won't even need to contact a customer service representative. Just go on the website's FAQ page, and you will 99% of the time find your answer there. They have over two dozen categories which contain answers to any question that a customer might ask. The website also has a banking page which has all the details one would need including payment methods and clear explanations on how to use each one, deposit and withdrawals options, limits, commissions, etc.
If you somehow don't find the answer to your question on either of these pages, you can turn to their 24/7 customer support for help. TheLotter's impressive customer support options include a live chat, email and a phone number for you to call about your issues and queries with answers available in 13 different languages. theLotter also has toll free phone numbers, though it's unfortunately limited to the UK, Russia, Germany, France, Australia, South Africa and Ukraine. When you have a question, you can also connect to customer representatives through Telegram, Messenger, Viber and WhatsApp. I think I can safely say that theLotter really outdoes itself compared to other websites in the industry when it comes to accessibility and convenience for its customers. And again, all this is 24/7. You really can't beat that.
Safety
The fact that theLotter has been around for over 16 years with barely any complaints says a lot about the quality of the website and how confident the users are in its security. theLotter offers the GeoTrust 128-bit security and HTTPS to encrypt all of the pages on the website This ensures that your financial data and private information are protected and inaccessible to anyone other than yourself and theLotter staff.
Another security measure theLotter takes is to scan every ticket purchased on the customer's behalf into their personal account. This enables the customer to see it whenever they want, and to know that the ticket will never get lost. Another reason why this feature is great is that it gives the customer proof of ownership, which guarantees they will receive their money when they win.
Mobile application
theLotter is actually one of the few websites that also has a mobile app is available for IOS and Android platforms; they also have an app for iPad. As most mobile apps go, they're much faster and easier to navigate than a web-based app. The first benefit of having a mobile application from a lottery service provider is being able to purchase your tickets on the go. If you get a notification that a lottery you like is having a big jackpot, you don't have to wait until you get to a desktop computer to play. The second benefit is that all your notifications are sent to your mobile through email and SMS. Through the application, you will get notifications of draw results, your wins, and jackpot alerts.  Overall, the mobile application works great. It's been optimized for easy navigation and has a nice interface and fast loading time. It's one of the better lottery mobile apps out there.
Final Thoughts

As you can see if you read the whole review, I highly recommend theLotter to any lottery fan who wants to start playing online. Not only does it have the widest range of international lotteries available, it provides great customer service 24/7, top-notch security and the website and mobile app are truly optimized to give the customer the smoothest experience possible. theLotter is a pioneer in the online lottery industry and truly remains one of the top lottery websites out there. There's honestly nothing negative worth noting about the website or company. Whether you're an avid player or just starting out, you won't regret playing with theLotter.