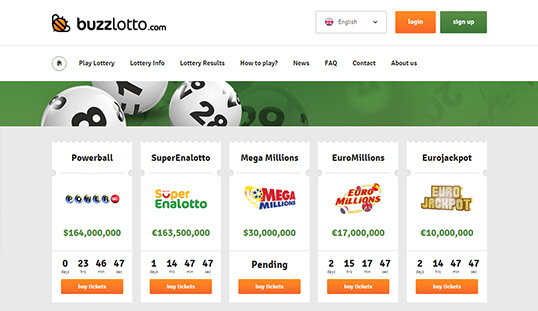 BuzzLotto Review
Since online lottery has gained immense popularity, a number of providers have sprung up to give people the chance of participating in the numerous lottery games played all over the world. BuzzLotto is one such online lottery provider that offers lottery fanatics a bunch of popular international lottery games they can play anywhere and at any time they want. The platform has been designed to provide its clients with the best possible service due to which their professional team is ready to assist players with any question they may have. Thus, BuzzLotto is doing its best to become one of the best lottery agents in the world and give lottery fans an opportunity to play a plethora of lottery games.
BuzzLotto makes it convenient for players to participate in online lottery, especially for people who live in countries where there is no decent access to lottery games. The website functions independently from the lottery draws that are offered on it. Therefore, it is basically a medium that can be used by average players for making the most of their chances of winning huge jackpots of lottery games from different parts of the world. BuzzLotto is operated by a European-Union registered company called Seymour Marketing Ltd.
Currently, the online lottery service provider has its headquarters in Curacao, but a local office can also be found in London. In addition, BuzzLotto is also a newcomer in the Bitcoin gambling sector and has introduced a new kind of service for Bitcoin players, except for players in the US and Israel.
Lotteries
When you are not a resident of a country where a particular lottery is being held, it is a given that you will start looking for alternative ways it can be played. This is the top reason for the existence of services such as BuzzLotto. Thanks to this website, you can play world renowned lotteries such as Powerball and Mega Millions online right from the comfort and convenience of your home. Apart from these, there are also other popular international games such as EuroMillions, SuperEnalotto, Polish Lotto, UK Lottery and EuroJackpot.
If you want to try your luck at any of these lotteries, you need to remember that you have to be of legal age. As long as you meet this requirement, you can play any of the lotteries being offered at BuzzLotto. All you have to do is select your numbers and buy a ticket. Once this is done, a copy of your ticket will be attached to your account on the website. You have the option of purchasing as many tickets as you like. The more tickets you buy, the higher your chances of winning.
However, if you want to save some money and increase your odds of winning the jackpot, you should give the group play option at BuzzLotto a chance. This is very similar to a syndicate play in which a group of people buy a bunch of tickets. The tickets are all pooled together and if even one of those tickets win a prize, the winnings are divided amongst all of the group participants.
Results
One of the main criteria that's often used for evaluating a service is through lottery results. BuzzLotto provides information about the results of all the lotteries that you can play on its platform. The latest results can be accessed by any player to check if they have won a prize or not. The results of all previous drawings are also provided on the website. Another unique feature of the website is that the lottery results page of every single lottery also contains some comprehensive information that can be useful. For instance, it provides you information about the various prize divisions and also gives small statistics about the numbers that are drawn. These strategies can be immensely handy when you are trying to come up with a strategy and increase your chances of winning the lottery.
Payment Methods
While the pool of payment methods available at BuzzLotto may not be as wide as you want it to be, the website states that more will be added soon. As it is, you can transfer money with your Visa or MasterCard credit and debit cards both and you can also make use of Neteller, Skrill and Sofort. Other than these conventional payment methods, BuzzLotto stands out in the crowd for accepting Bitcoin, which has made it a welcome addition to the industry of Bitcoin gambling. However, one thing to note is that all transactions are made in Euros.
Customer Support
BuzzLotto has an FAQ section where they have provided answers for the most commonly asked questions and the answers are quite detailed and comprehensive. If you still need to get in touch with their team, there are several options provided. You can use their phone number or email address, depending on how quickly you need a response. The website also provides a contact form.
Apart from these features, the website itself is intuitively designed. It is easy to navigate and use and players will be able to find everything they are looking for without much hassle. Creating an account on BuzzLotto is essential in order to get started with the lottery of your choice. The good news is that the signing up process is quite straightforward. You just need to provide an email address and a password and a link will be sent to your box for verification. One of the best things about making an account on BuzzLotto is that you can keep it anonymous when playing, especially when you are using Bitcoin as a method for making your payments.
BuzzLotto doesn't take any commission from the players when they win a prize, but they have mentioned in their Terms and Conditions that they will take any handling fee, charges or commissions that are involved in the transfer of money to you. A notable advantage of BuzzLotto is that the website boasts a responsive theme, which means that you can access it on mobiles, tablets, laptops and desktop and still enjoy a seamless experience.