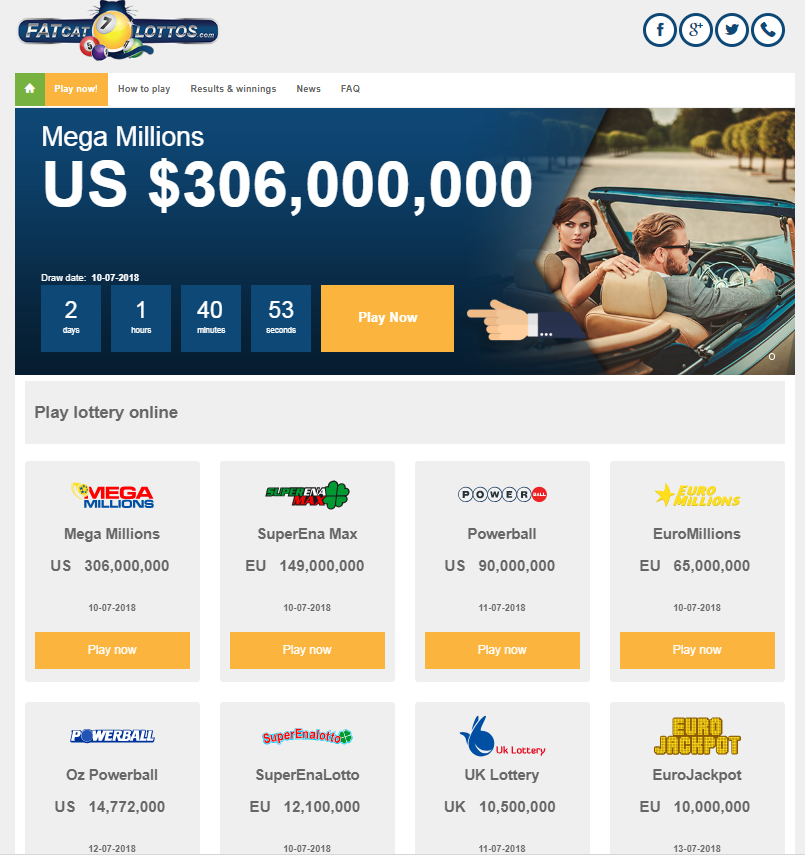 FatCat Lottos was launched at the end of 2010 and gives lottery players around the world the opportunity to play big jackpot games in lottery syndicates. Since launching, FatCat Lottos has developed significantly and now offers a world class suite of global lottery games. You can currently enjoy the following lottery games with FatCat Lottos:
UK lotto
EuroMillions
Spanish Superdraws
Superenalotto
Irish lotto
USA Mega Millions
USA Powerball
Fat Cat Lottos
Playing in a lottery syndicate is a tried and tested method of improving your lotto odds so it really makes perfect sense to enjoy lotteries in this way. What's more, when you register and choose your game with FatCat Lottos, you will never have to worry about forgetting to buy lottery tickets again as all this is done on your behalf and you are paid out your share of 100% of any syndicate winnings.
How to Use Group Play to Win the Lottery
The company behind FatCat Lottos is Ardway Limited and they are licensed by the Malta Gambling Supervision Commission and as such are required to satisfy the jurisdiction's licensing requirements and comply with the stringent online gaming standards and player protection rules. You can therefore be safe in the knowledge that you are enjoying quality lottery products with a legitimate gaming provider. Here are some great reasons why joining Big Fat Lottos makes perfect sense:
Safe, secure, trusted
Never miss a jackpot
Play games not available locally
Winnings are collected on your behalf
100% of winnings paid out
Fully licensed company
Hassle free organization
Euro Millions Mini Syndicate
Play in a Euro Millions Mini Syndicate for greatly improved odds
If you are on the look out for a cost effective way of playing the Euro Millions then you should check out the Euro Millions Mini syndicate brought to you by FatCat Lottos. With this syndicate option you receive 50 chances of winning every single week giving you far better odds than playing alone as a single ticket holder.
The Euro Millions Mini syndicate purchases 25 tickets in every draw and as there are two Euro Millions draws each week, this means a total of 50 winning chances weekly for each syndicate. There are 250 shares in each of these syndicates and any prizes are shared equally between these shares so the more shares you buy the greater percentage of the winnings you receive.
The cost of purchasing syndicate shares in one of these syndicates varies depending on how many shares you buy and the duration over which you elect to participate. However, you can get involved for as little as £5. There are no deductions made to any syndicate winnings so you can be sure that you will be receiving your share of 100% of all winnings.
After you have selected and paid for your syndicate ticket(s) FatCat Lottos send you email confirmation of your purchase. Scanned copies of all your syndicate tickets are then uploaded to your member's area so that you can see exactly what numbers you have. The actual tickets are stored in a safety deposit box by the auditors of FatCat Lottos for your peace of mind.
Following each draw the operators of the Euro Millions announce the winning numbers and the prize payouts for each of the 13 prize tiers. As soon as this information has been made available, FatCat Lottos check these results against your tickets and if you have won a major prize they will contact you as soon as possible to arrange prize collection.
As FatCat Lottos is the syndicate manager, they will claim any syndicate winnings on behalf of all members. Syndicate winnings of up to $600 will be sent to the FatCat Lottos' accounts of all members. Payouts in excess of $600 may also be paid into members' accounts but may also be paid out by bank transfer or cheque depending on the personal preferences of syndicate members as well as keeping in line with local banking laws.
If you are keen on playing the Euro Millions lottery in a cost effective manner with a considerable odds enhancement then the Euro Millions Mini syndicate is definitely worth considering.
Anyone who plays lotteries regularly knows just how poor the jackpot winning odds are with most global lottery games. Wouldn't you much rather choose a playing method that greatly improves your chances of securing some lottery cash? Well, of course you would! Come and check out the selection of top quality lottery syndicates offered by FatCat Lottos and begin to enjoy the lottery more by playing in this fun and cost effective manner.