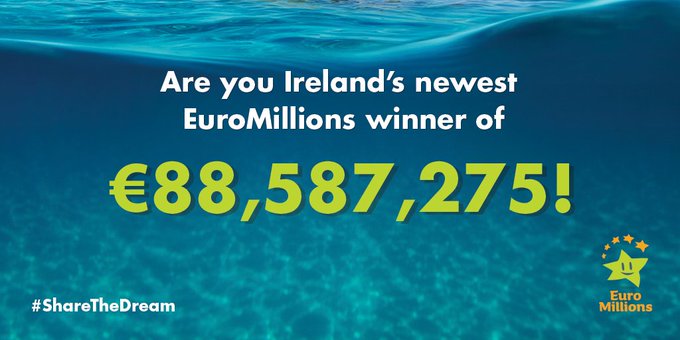 The EuroMillions Lottery officials, in Ireland, have confirmed that the winner of a €88.5 million ($95m) prize has made themselves known but their whereabouts and identity continue to be a mystery. This is one of the largest lottery wins Ireland has ever seen.
The Lottery officials said, on Wednesday "The National Lottery can confirm that the ticket holders have been in touch to make arrangements to collect their prize money."
CEO of Ireland's National Lottery said Dermot Griffin said "It will take until next week before all of the money is transferred from the other countries into Ireland.
"So we will be paying out the jackpot hopefully sometime next week. With a jackpot this big, we have to collect the money from other countries. It'll be next week before they get the money."
He joked "I'm sure if they go to the bank they'll be good for a loan."
The Sun reported on Thursday morning that there were rumors circulating that a group syndicate from Janssen Pharmaceuticals in Little Island, Cork, held the winning ticket. Management refused to comment on whether their workers were the lucky winning ticket.
On Wednesday rumors were swirling nationwide as people guessed who and where the winner might be. It seemed the consensus was the big winner was in either Cork, Limerick or Mayo.
One Cork woman told the local radio station Red FM that she thought it was her local newsagent  Glounthaune that had sold the lucky ticket.
"There's fierce excitement and a great buzz about the place with our own customers today and people calling to see," she told the station. "It's a local company, hopefully with local customers of ours. Fingers crossed it's us and them that's involved in it."
The National Lottery has said they will provide legal advisers and accountants to assist the EuroMillions winner. The CEO Griffin said "While some people respond to a lottery win positively, others can be left in shock …we sit them down and talk to them and have professional advice."
Money experts advised the winners to protect themselves. The Irish Institute of Financial Trading's Peter Brown said "What happens to these people a lot of the time is they run into the wrong financial advisor and they end up in all kinds of ponzi schemes and awful stuff and they don't understand what's going on."
This isn't the first time an Irish person has won a big sum of money from the EuroMillions. There has been nine previous Irish winners, including jackpot winner Dolores McNamara from Limerick who won $124 million in 2005.
She realized she had one when she was down her local pub. She threw her lottery ticket on the table; "Check that for me," she asked a friend before downing a brandy in celebration.
McNamara was recently involved in the headlines when foreclosed properties she had bought in poor neighborhoods of Detroit were bankrupted again because of lack of maintenance by the management  company.