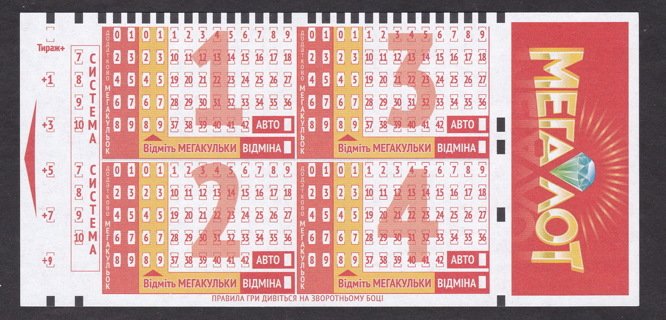 The Ukraine Megalot is one of two of the major lotto games in the country. The game is regulated and operated by the MSL and has been a member of the European State Lotteries and Totes Association since 1993. You can buy tickets online for this lotto game through Lottosend, LottoAgent, LotteryMaster or WinTrillions.
Also known as the Molodsportloto, drawings are held twice per week, on Saturdays and Wednesdays at 8:50 PM in Kiev, Ukraine.
How to Play
Players must choose six numbers between a range of 1 to 42. Players also have the option to choose a bonus ball number between 0 and 9, for a total of seven numbers. The Megalot is also known as one of the double matrix games featuring 6/42 + 1/10.
You can also purchase more bonus balls at an extra fee improve your chances of correctly matching the winning numbers and improving the odds of taking home any cash prize. The good thing about this lotto game is that the jackpot rolls over until a winner steps up to claim the first prize.
A single Megalot ticket costs 5 Ukrainian Hryvna, which comes out to roughly $0.20. But in order to play, the MSL mandates that players must make at least 5 entries. Extra bonus balls cost an additional 1 Hryvna, or about $0.05.
Prizes and Odds
The Megalot jackpot tends to end up being worth around 1 million Hryvna, or around 400,000. An upcoming Megalot jackpot is currently valued at $250,000 but is of course expected to rise. The lowest paying prize is pocketed when you land 3 matching numbers, which is only worth about $0.75.
Three numbers plus a bonus balls comes out to a payout of $1.50. 4 matching numbers is worth about $6, and throw in the bonus ball it's $12.50. By matching 5 numbers correctly, you can win up to $275, not including the bonus ball. The biggest ever Megalot jackpot was held in October 2014 when a lucky player from Northern Ukraine won over $575,000.
Here's a breakdown of the odds you'll take home a cash prize playing Ukraine's Megalot lottery.
6 + Bonus Ball – 1 in 52.4 million
6 Numbers – 1 in 5.8 million
5 + Bonus Ball – 1 in 242,000
5 Numbers – 1 in 26,000
4 + Bonus Ball – 1 in 5,500
4 Numbers – 1 in 616
3 + Bonus Ball – 1 in 367
3 Numbers – 1 in 40