Canadian Lotto 6/49 Jackpots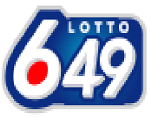 Even more than the ease-of-play and affordability of game, the Canadian Lotto 6/49 jackpots are easily the biggest draw with this national lottery game. Is it true that a group of Alberta oil and gas workers won a jackpot of over fifty-million dollars in 2005? Is it true that there was a staggering 63.4-million dollar jackpot payout made to four tickets?
Both stories are absolutely true. Players have been scoring big since the game's introduction to Canadians in June of 1982. While both of those instances are certainly extreme examples of how much you can win by playing Canada 6/49 Lotto, the jackpot prizes nonetheless run to the substantial side of things. In addition to this, you do not want to forget about the other ways in which you can be a big winner during the weekly drawings on Wednesday and Saturday.
Lotto Jackpot 6/49 Winners
When it comes to the Lotto Jackpot 6/49, there is a lot that is worth getting excited about. Perhaps one of the best parts about picking your six numbers from a pool of 1-49 is the fact that every single drawing has a guaranteed winner. This is the one-million dollar Guaranteed Prize Draw, which is included with your selection or selections for the main drawing. Upon purchase of your ticket, you will also receive a randomly-generated ten-digit number. This number will consist of eight digits, a hyphen, and then the last two digits. In addition to the main drawing, a number will be selected at random. If your number matches up, you win a million dollars. That's all there is to it.
There have been some pretty significant 6/49 Canada Lotto jackpot winners over the years. It's worth noting that the average jackpot comes in at around nine million dollars. This is typically how much a jackpot winner scores, although you will want to keep in mind that the odds of having all six of your numbers match up to the six that are drawn on Wednesdays or Saturdays are pretty high.
You should also keep in mind that the jackpot does not begin and end with going 6/6. There are a variety of ways in which you can win a Canadian Lotto 6/49 jackpot. Match up five numbers, and get the bonus number right, and you can win 5.75% of the pool's fund. Match five without the bonus number, and you can walk away with a sum of money that is almost as good. The possibilities are out there. Simply getting 2 right out the 6 numbers drawn entitles you to a free play that can be applied to your next purchase. While that is certainly not as grand as winning tens of millions of dollars, there is certainly nothing wrong with having an opportunity to play again next time!
Be A 6/49 Lotto Jackpot Winner
Don't forget that if you want to increase your chances of winning the big jackpot, you will want to purchase multiple selections. You can choose the numbers yourself, or you can opt for quick picks to make things more straightforward.
Learn More about Canadian Lotto 6/49