PlayLottery.com Sounds Exciting But Is It Worth A Punt?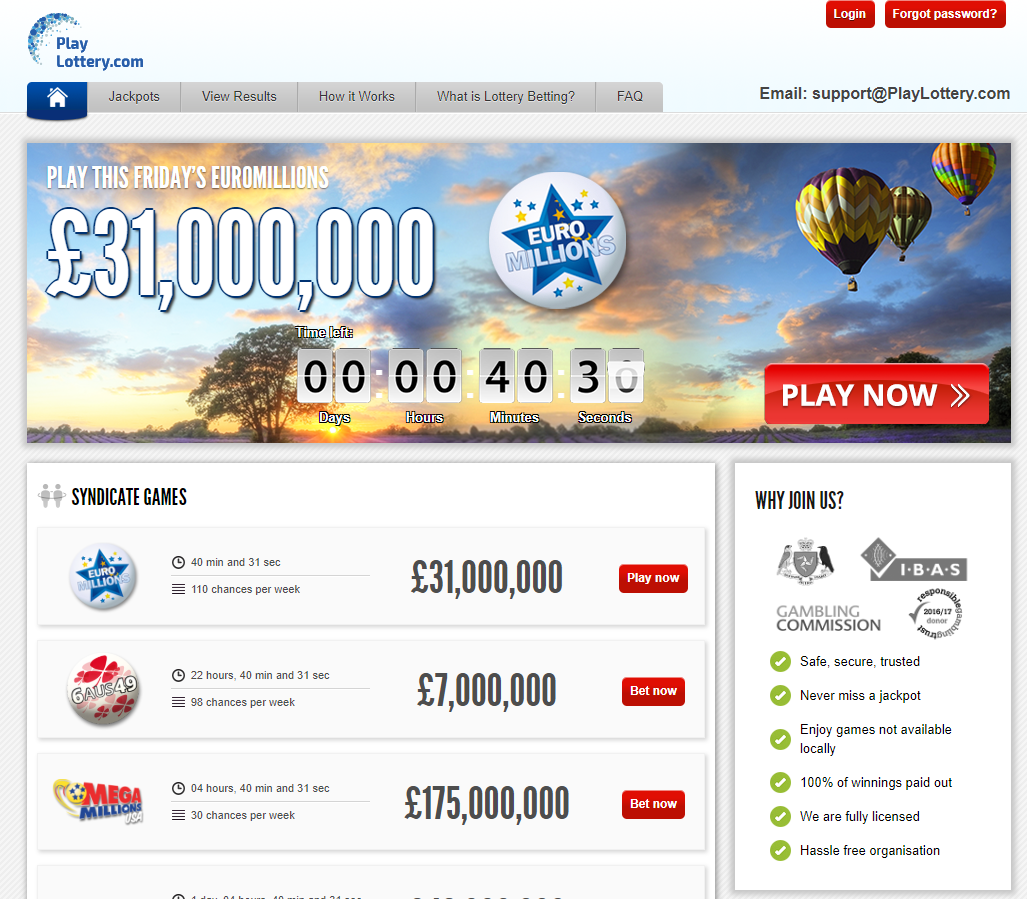 Thinking of joining Playlottery.com? Learn everything you need to know, right here at LottoWonga. Playlottery.com is becoming bigger and bigger, but what do we really know about Playlottery.com?
Well firstly they hold two gaming licenses, one in the UK & the other in the Isle of Man. As time goes on, this is becoming an industry benchmark and we recommend that when you choose to play the lotto online that you check to see that the company you opt for is always licensed.
Why is this important?
Well what it means is your money is safe when choosing to do transactions, you are guaranteed to get your winnings paid out and if you need help with any of your games you can also call them through a dedicated account management team, which is a nice touch.
PlayLottery.com currently offer a number of well-known games, ranging from the EuroMillions lotto in Europe to the MegaMillions and Powerball in the USA. Infact, if you fancy playing in a lottery syndicate then you have a choice of 10 lotteries to choose from. If single ticket play is more your thing, then these guys offer 4 of the biggest global jackpot lottery games for you.
One thing we also particularly like is you can play across all devices! So if you lead a busy lifestyle you have the option to play your favourite game whilst on the move. Also Playlottery.com are becoming particularly well-known for their great offers – one which is worth a mention is their Exclusive £100 Million EuroMillions Lotto offer, known as a bumper jackpot!
Playlottery.com offer a £100 Million EuroMillions jackpot, to all new players, regardless of the size of the draw on the night. So, if someone wins with Playlottery.com you can expect a huge increase in your winnings and that ladies and gentlemen is why people are choosing to play with them. Because they know we all love a big Jackpot!
What do I think of PlayLottery.com?
Plus Points:
Nice clean website that is easy to understand and navigate
Fully licensed lottery provider which helps add trust
Offer both single line tickets as well as syndicates
Great offers announced regularly
Negative Points:
No negative points to mention at the moment. But PlayLottery.com has only been around since 2014.
Summary
PlayLottery.com has a decent product range, is fully licensed and has a very pleasant and easy to understand website. I am not saying that they are one of my favourite lottery providers but they seem to have a nice business that should draw in players from around the world. They also offer some very attractive incentives to entice new players to their gaming platform. If you are thinking of giving these guys a shot, I would say "why not?". Just remember to tell me all about your experiences, good or bad, right here